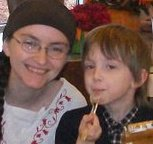 First and foremost, Jessica is a Montessori-homeschooling mom with a long history of using the Montessori method with children of all ages. Her family's Montessori journey can be found at Montessori Trails.
We have been homeschooling with Montessori for 14 years and have a full Montessori home for our foster children age birth to 15 years.
She also has the following Montessori-related training and experience:
+AMI Primary Montessori Training & Certification – St. Paul, MN
ages 3-6, applicable to ages 2-7
+AMI Elementary Montessori Training – Milwaukee, WI
ages 6-12, applicable to ages 5-14+
+Catechesis of the Good Shepherd (CGS) Formation
3 levels: ages 3-6, 6-9, 9-12
Montessori-based faith formation experience
+Godly Play (upcoming)
Loosely Montessori-based faith formation
+Catechesis of the Good Shepherd Formation Leader
(can lead courses for catechists who will teach the children)
+Montessori Family Daycare and Tutoring
Montessori experience for children aged 0-12
+Establishment of several CGS atrium spaces – 4 locations personally; support of additional locations
-Continue to mentor catechists
-Current catechist for levels 1, 2 and 3 at home, local parish and a Montessori school
+Substitute at various Montessori schools – elementary, primary, infant/toddler
AMS, AMI, other affiliation
Michigan, Minnesota, Ohio, Indiana, Kentucky
+Multiple capacities at one AMI Montessori school
Aide, substitute directress, summer camp, office assistant and leadership, library re-organization; etc.
+Currently operates a Montessori Homeschool Co-Op while Montessori homeschooling and mentoring Keys of the Universe participants
+Additional Observation at AMI and AMS Montessori schools at infancy/toddler, primary and elementary
+Student Teaching in AMI Montessori classrooms
She can also be found at Garden of Francis, the family's original business – run by Jessica and son.
Ready to join? Visit our course page for registration.